Munich is Germany´s leading tourist city. It is especially for foreign guests who love the Bavarian capital. Munich was founded in 1158 and was given the status of a town in 1214. In 1255 Munich became the residence of the Wittelsbach dynasty. Under King Ludwig I famous buildings were erected: the Glyptothek, the Old and New Pinakothek, the enlargening of the Royal Residence, the Feldherrnhalle, Siegestor (Triumphal Arch) etc. thus turning Munich into a major cultural centre in Europe. The Church of Our Lady, whose two onion-shaped domes dominate the skyline, is the unmistakeable landmark of Munich.
The modern landmark of Munich is the tent roof of the Olympiapark. This 3-square kilometer landscaped park was built for the 20th Olympic Games that where held in Munich in 1972. Not far away is the BMW museum as well as the impressive "four-cylinder" building which houses the BMW headquarters. Another attraction of Munich is the Castle Nymphenburg. This vast Baroque palace is located in the western part of Munich. The building was once the summer resicence of the Bavarian Electors and is now a museum. Its elaborate interior and Ludwig I's much-admired "Gallery of Beauties" have made it one of Munich´s most visited places.
A stone's throw away the visitor finds amazing attractions such as Neuschwanstein Castle, Lake Chiemsee with Herrenchiemsee Palace or Germany's highest mountain Zugspitze.
Tours & Activities
in Munich
Top things to do
in Munich
Nymphenburg Palace
The baroque palace in the west part of Munich was the summer residence of the Bavarian monarchs. Five generations of Wittelsbach rulers were involved in the construction of this stately ensemble, which houses several outstanding collections.
Oktoberfest
Munich's largest and most traditional breweries cordially invite you to join the festivities. Drink beer by the litre (teetotallers don't need to worry: sodas and water are also available), eat traditional Bavarian food such as pretzels with a diameter of 15 inches.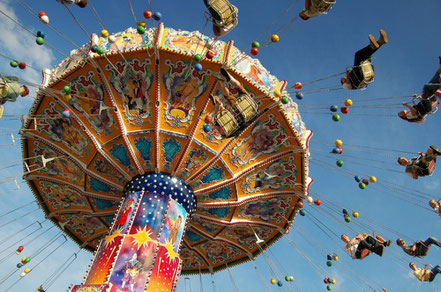 Go shopping! 
The Stachus Passagen – Europe's largest underground shopping centre is located in the heart of Munich, directly at Karlsplatz. Surprising, varied, stylish and central. On an area of 7,500 square metres (255,918 square feet) visitors and customers can expect an excellent assortment of goods for daily requirements and "to take them quickly", as well as trendy shops and boutiques.
Visit the English Garden
"The Englische Garten ("English Garden") is one of the largest urban parks in the world. The layout has undergone constant change throughout the centuries as new buildings and green spaces were added time and again.
Church of St Peter
"The Kirche St. Peter ("Church of St. Peter") is one of Munich's landmarks, the oldest parish church in the city, and is known affectionately by the locals as Alter Peter ("Old Peter"). The church stands on a hill called Petersbergl, which is the only noteworthy elevation within the Munich's historic Old Town.